Fire Emblem Warriors: Three Hopes - The Loop
Play Sound The Camarilla is a worldwide sect of vampires within Vampire: The Masquerade – Bloodlines, that has existed since the early renaissance. It has been incapable of permanently solidifying its power in Los Angeles for well over a century. Its main rivals are the Sabbat and the Anarch Movement, but more recently it has faced other supernatural threats in the form of the Kuei-jin, the Kindred of the East.
Events of Bloodlines
By 2003, the Camarilla had returned to Los Angeles headed by Prince Sebastian LaCroix. The Camarilla was at war with the Anarchs and the Sabbat, but LaCroix had maintained a secret, personal alliance with Ming Xiao, leader of the L.A. Kuei-jin. The sect had many supporters including: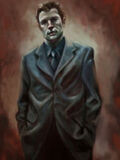 While the Ventrue and the Tremere were nominally Camarilla, the Nosferatu were very reluctant allies, the Malkavians' allegiance was mostly mixed, and the Gangrel, Toreador, and Brujah of the city were largely Anarchs. With the infighting amongst itself and its feuds with the Sabbat and Anarchs, the Camarilla's presence in Los Angeles can only be solidified by the player's actions and choices.
External links